Oxygen Forensic® Suite is mobile forensic software for data acquisition from phones, smartphones and other mobile devices. This program has played a significant role in criminal and other investigations all over the world and is used by Law Enforcement units, Police Departments, army, customs and tax services and other government authorities.
Oxygen Forensic Suite is a mobile forensic software that allows for extensive analysis of cell phones, smartphones and tablets. Oxygen Forensic Suite allows for the use of advanced tools to extract much more data than usually extracted by logical forensic tools, especially for smartphones.
The forensic suite allows for the connection of mobile devices either through USB cable or via Bluetooth. The supported phone types include Symbian OS, Windows Phone, Blackberry, Apple iOS, Android OS, Nokia, and Bada OS. It total, Oxygen Forensic Suite supports over 7700 different mobile devices.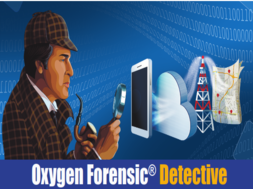 The suite permits for the gathering of the following information from mobile devices:
Phonebook and contacts
Organizer and calendar events
Text messages (SMS and MMS)
Calls and events (events include deleted SMS messages, Wi-Fi traffic, etc.)
File system and multimedia (including photos, videos, downloaded documents, etc.)
Extras (including app information, social media details, and geolocation data)
With Oxygen Forensic® Suite you can examine:
Common device information
Contacts with all the fields and contact photos
Missed/Outgoing/Incoming calls
Organizer data (meetings, appointments, memos, anniversaries, tasks, notes, etc.)
SMS, MMS, iMessages, E-mails with attachments
Device dictionary words
Photos, videos, audio files and voice records
Geo coordinates stored in camera snapshots and applications
Wi-Fi connections
Device logs
Passwords to the device owner accounts and WiFi hot spots
625+ applications user data from Android OS, BB 10, iOS, Windows Phone devices
Deleted data (contacts, messages, calls, photos, etc.)
Timeline – all the events including geographical coordinates from one or several devices
Aggregated Contacts – contacts taken from various sources, including applications
Communication Statistics of one or several device owners
Social interactions of one or several device owners shown on the diagram or graph
Key Evidence – a convenient way of putting all the important data from all the sections of one or several devices in one list for further analysis or export
Mobile device information analysis can be done from the program directly or with the help of advanced export function. You can create reports in the most popular file formats (XLS, RTF, PDF, XML, CSV, TSV, etc.) and either print or send them to remote departments and experts.
The program has a powerful built-in search engine. You can easily find the necessary information in all the sections with few mouse clicks in Oxygen Forensic® Suite. What is important, the search results are saved between sessions and can be either exported or printed. Besides, a contextual filter in every section helps you to sort out the data the way you need it.
Moreover, the software allows to save extracted data to a file and then load it into the program on another computer. Thus you need to connect a phone and extract data only once and then send the extracted information outside, e.g. for analysis by remote experts.
The current version supports 10,350+ mobile devices running different OS: Android, Bada, Blackberry, iOS, MTK chipset (Chinese devices), Symbian, Windows Mobile 5/6, Windows Phone, etc.
Oxygen Forensic® Suite allows to import various backup types (iTunes, Android, BB, BB10 and IPD) as well as iOS and Android images made in other forensic tools. The program is also capable of acquiring user data from My Windows Phone cloud and iCloud (login and password required).
Oxygen Forensic® Suite supports USB cable connection and Bluetooth (Microsoft, Widcomm) connection. The software works under 32-bit or 64-bit versions of Windows 8, Windows 7 and Windows Vista.